Albums

Watson Studios is proud to offer handmade photo albums to our clients. To us, albums are the ultimate showcase for your images. In a digital age, albums are timeless, tactile heirloom pieces that can be handed down for generations.
Whether it is a wedding album for a bride and groom, a baby book for new parents, a Senior album to celebrate accomplishments, or family album to capture memories, our albums are made to your specifications with the finest leathers, papers, and archival materials.

The Difference In Our Albums

Not all albums are created equally. With the advent of digital printing a wave of new and inexpensive printing options became available to album and book makers. While some of the innovations are great, many are not ideal for what we consider to be a treasured heirloom for your family. We have sought out the finest album manufacturers in the world to bring the highest quality, longest lasting albums available. All of our albums include a lifetime guarantee from the manufacturer and are made to last for generations. Other companies' albums are pre-made with stick-on backing for photos. Or, their images are printed directly on thick paper, not actual photo paper. We don't work with album companies that use either of those processes. Our albums are made of genuine photographs printed on high quality photographic paper with archival materials. Album photographs are given a UV spray to protect from harmful environmental damage as well as fingerprints. Photographs are hand-mounted permanently on archival backing or mattes. This process ensures a long lasting product that will hold color, protect the images, and lay flat when viewing.
Modern Wedding Album Designs
The best wedding photography tells a story and the best way to tell a story with photos, the story of your wedding day, is with a professional wedding album, using your choice of premium leather and fabric covers, and cover imprinting with your names and/or wedding date. Professional layout and design of your favorite photos are included in the price. Cover photos, multi-fabric covers, and matching custom slip cases can be added to any album.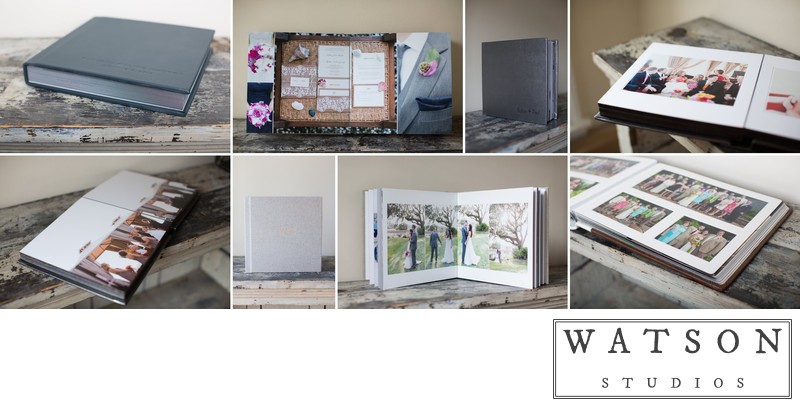 Matted Albums vs. Flush Mount Albums
The two most popular types of albums we offer are our Matted Albums and Flush Mount Albums. Flush Mount Albums are our standard photo album because they offer a striking presentation along with large photos and collages. For clients that want a more classic, elegant look, we also offer custom Matted Albums.
Below is an example of a Flush Mount Album. Flush Mount Albums are essentially large sheets of photographic paper mounted on thick archival board to allow the images to lie flat when viewing and keep their form. Since each two page spread is all one sheet of photographic paper, you can have a full double spread image or you can have any combination of images laid out on the page in any type of grouping. With every album we create unique designs for every page using a variety of designs to tell your story in the best way possible.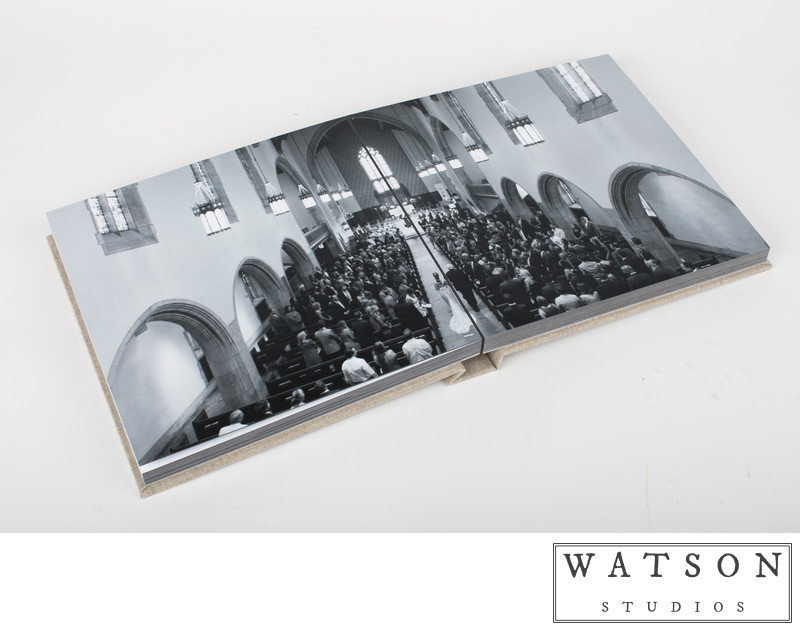 Here is another example of a flush mount page.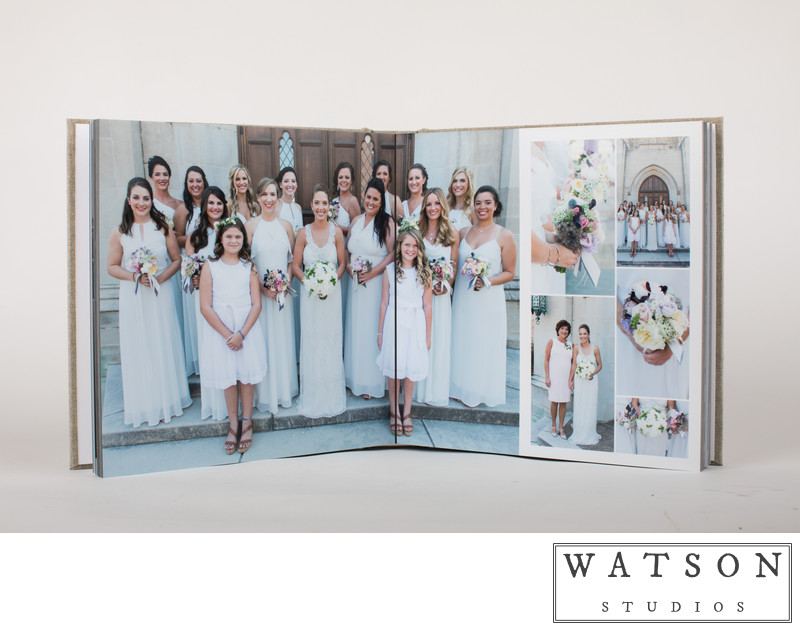 Below is an example of a matted album page. Images are mounted inside a custom cut window matte that frames each image within its own matte. What is great about our matted albums is that you can have Flush Mount pages within a Matted Album. That means you can have full two spread panoramic images with no matte in a Matted Album page. It can be confusing, just know that you have tons of options when it comes to creating a unique and stunning album.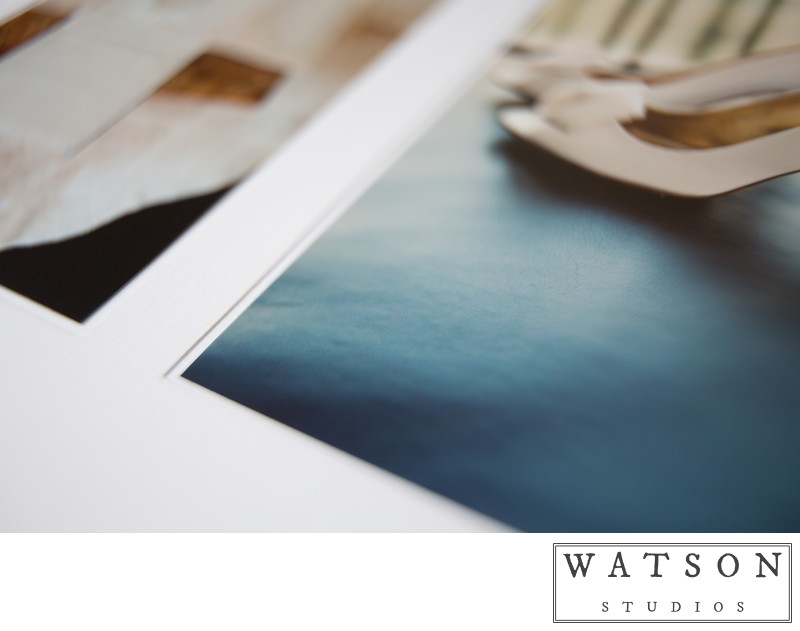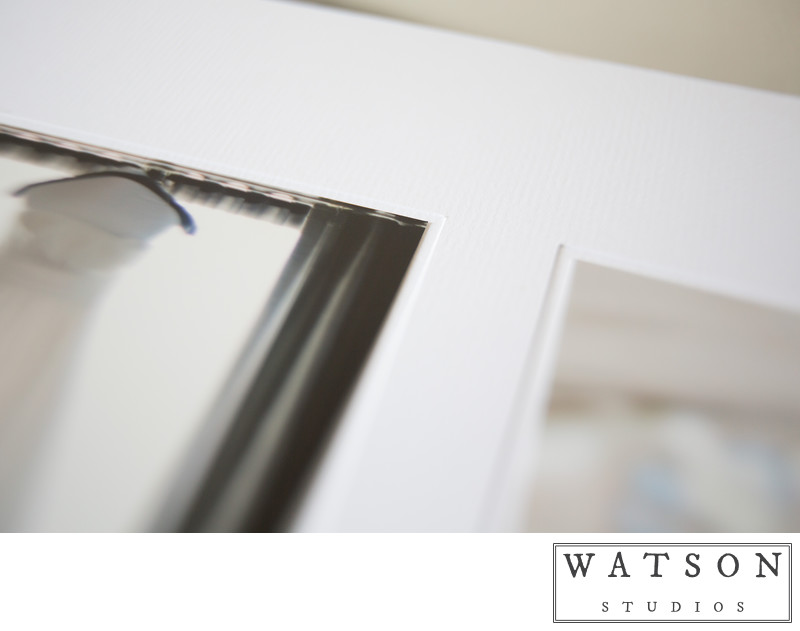 Album Cover Treatments
We offer wide variety of cover choices that give you endless options to personalize your album. Choosing from top quality leathers, Japanese Book Cloths, Classic Fabrics, and Photo Plate Covers, are just the beginning of of the options you have. Cover photos are another option that is different from a Photo Plate Cover.
Cover Photos
Cover photos are one our favorite options to add to your album. Photos can be a range of sizes and can be mounted in a number of locations, like the center, bottom right, upper left, or wherever you choose.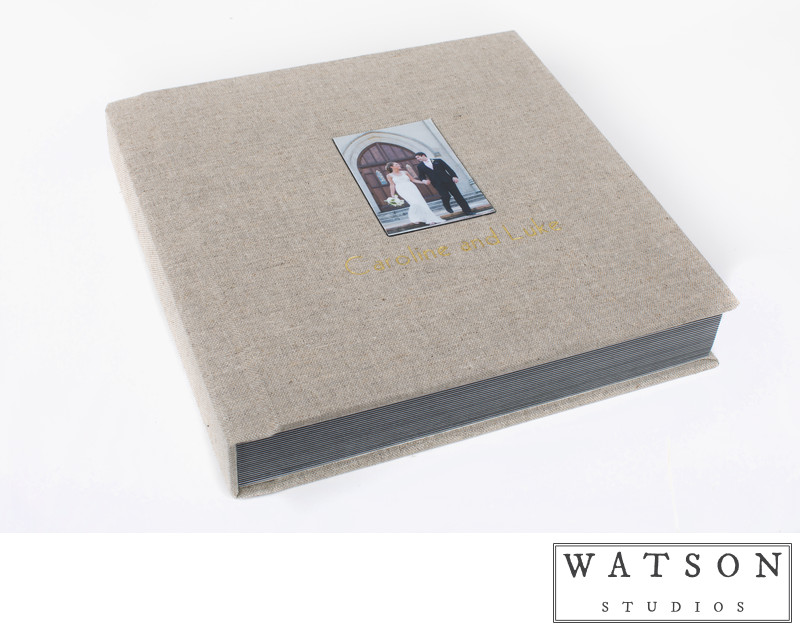 Two Toned Covers
Two Toned Covers give you the option of having two cover materials for your album, giving it a sophisticated and unique look.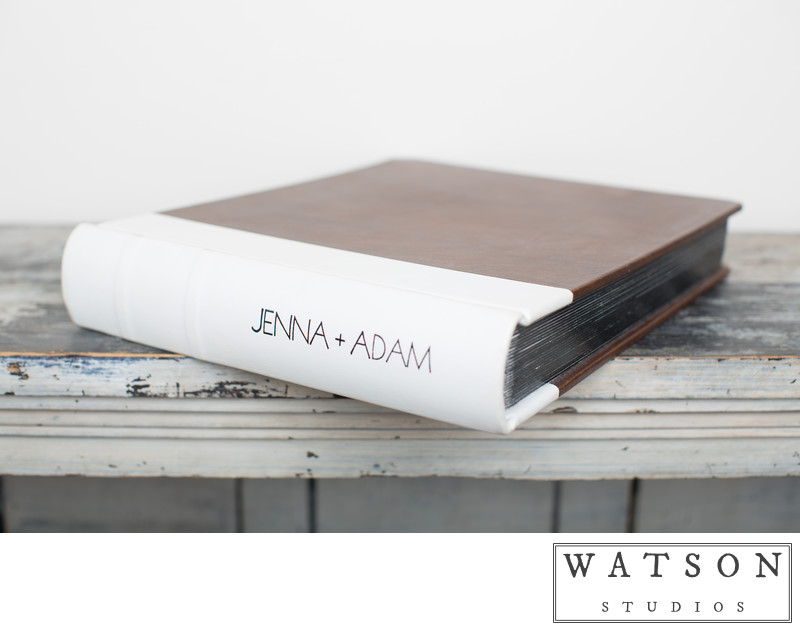 Imprinting

With leather and cloth covers, you have option to add name and date imprinting to your album. Imprinting can be done on the front and/or the spine. There are a variety of fonts to choose from and you can have your imprinting done in black, white, silver, gold, copper, red, or branded (branded is the absence of color, just an embossing as shown below).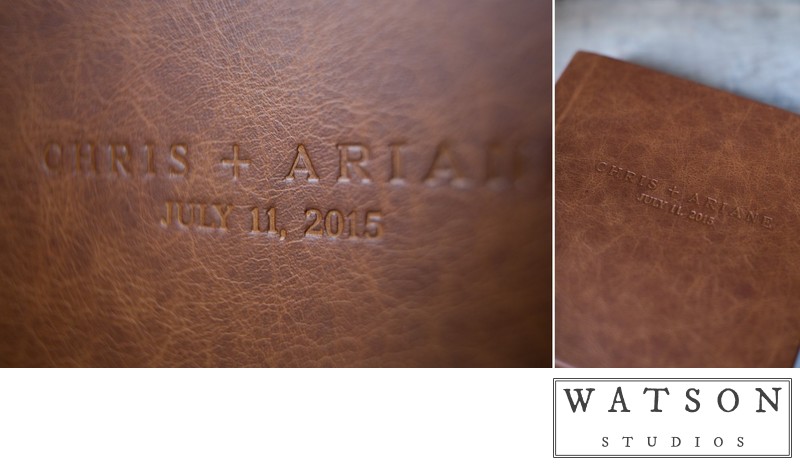 Many More Options
The options, from photo plate covers, to ribbon binding, to custom boxes, the options are endless. If you don't see what you're looking for here, get in touch with us and we'll create your perfect album.